Global User Experience and Design Experts unite for 3XE UX | Croke Park Conference Centre Dublin | May 16th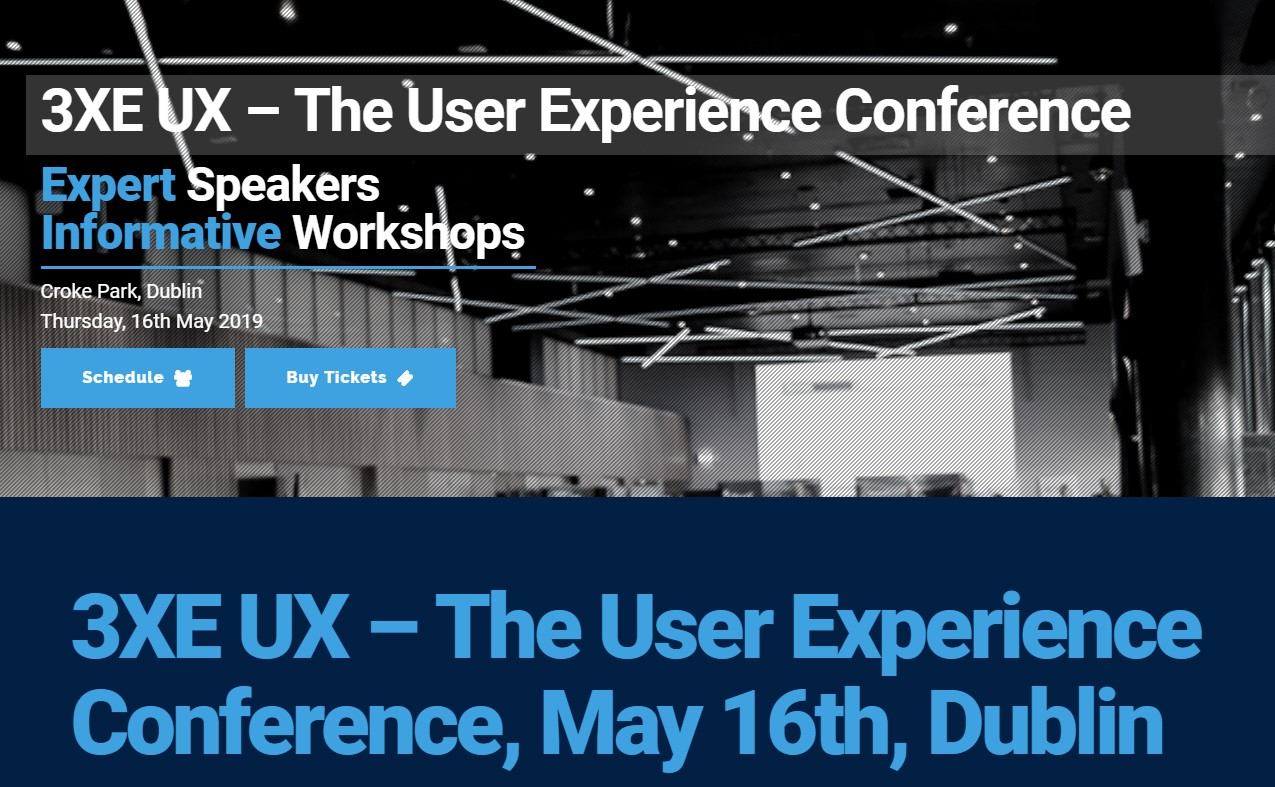 Press Release



Global User Experience and Design Experts unite for
3XE UX
Croke Park Conference Centre Dublin | May 16th
On May 16th, hundreds of digital marketing and design professionals will unite at Croke Park to attend Ireland's largest ever User Experience (UX) and Design Thinking event. This event has attracted multiple delegate bookings from Ireland's highest profile multinational companies such as Facebook, Google, Microsoft, Adobe and AirB&B as well as large companies such as KPMG, Lidl, Kepak, Bord Bia, Revenue.ie, Avantcard, Bank of Ireland, Taxback, Ireland Rail and Camelot Lotteries to name just a few. Add to that distinguished list a host of dynamic SMEs and we have a fantastic conference to look forward to.
What is it they all want to hear and lean about? Easy – They want to hear from the best global leaders in User Experience and Design Thinking; discussing and debating how to get their websites performing to their maximum ability. In the 'always on-line digital age' this is the singularly most important marketing tool to get just right. Good UX leads to a huge increase in sales.
International expert speakers are coming from USA, UK and Germany, along with the very best in Ireland. Industry leaders including Google, SAP, Publicis, Wolfgang Digital, Yoast, The UX Studio, The UX Design Institute, Dawson Andrews, Friday Agency and UX Switch among others will share their wealth of knowledge on how clever UX and Design Thinking is changing how we do business and can massively increase sales.
The companies shaping the UX and Design Thinking landscape will share their knowledge on how to plan and implement optimized strategies and campaigns. All details, including full speaker lineup, conference agenda, workshops and online bookings are available at www.3XEDigital.com.
"Almost 60% of users say they will not recommend a business that has a badly designed website or mobile website. Over 40% of users will stop engaging if they find the content or layout of a website shabby and tatty. 94% of visitors stopped trusting websites with degraded web design." UX Design Institute
The primary goal of any business is to increase its sales and therefore, the growth of the business. UX design plays an essential role in achieving this goal. The UX design of a website or application improves the user experience and customer satisfaction that ultimately helps increase the number of users.
Consumers today have lots of choices for their products and/or services, so you need to grab their attention quickly and provide an excellent and fast user experience otherwise your bounce rate will increase.
Good UX design helps to build confidence and makes customers more likely to purchase. How often have you heard people say "I saw what I wanted online but the website looked a little dodgy so I didn't buy it"?
## ENDS ##
About 3XE Digital
3XE Digital is the brainchild of Adrian Hopkins, recognized as one of Ireland's leading conference organizers. Having developed and implemented some of the country's largest and best known conferences, Adrian is now bringing the 3XE Digital conference series of in-depth marketing events to Dublin since 2015. 2019 will see 3XE events in February, May and October.
For delegate bookings and all further information such as the full conference agenda please go to www.3xedigital.com or call Adrian at 01 2811111, 087 6811830 or [email protected]

Media Contact: Helen O Dwyer | PR1 | 086 2332725 | 046 9731622
Limited number of press passes available
3XE Contact: Adrian Hopkins
Tel: 0876811830
Email: [email protected]