Testing Times | Top tips for coping with exam pressure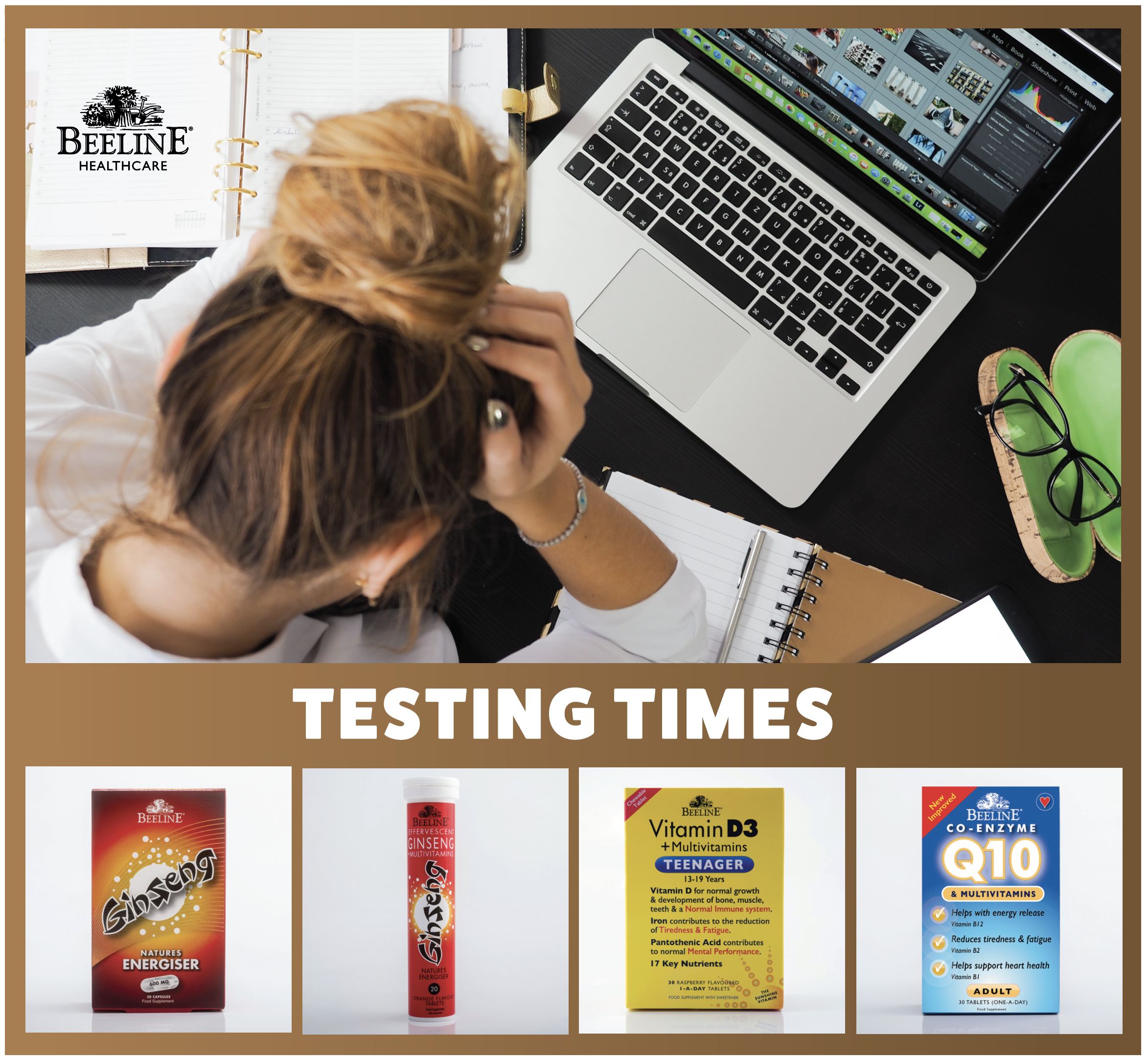 Testing Times
Top tips for coping with exam pressure

When the clocks go forward, the sun starts to shine and temperatures start to rise, so too do stress levels, fatigue and pressure for exam students. With exams coming up, it is hard to stay calm and collected and many students also require an energy boost to get through this testing time. Hectic deadlines, poor diet, stress and lack of invigorating exercise directly take their toll on both body and mind and leave students feeling tired and worn out. Irish Company Beeline Healthcare have some helpful supplements and top tips for coping with exam pressure at this crucial time.
Ginseng has an energising effect in cases of fatigue and a calming effect in cases of everyday stress. Known as 'Natures Energiser, Ginseng optimises the body's resources and delivers an energy burst to help maintain endurance and performance. In China, ginseng has been known for more than 7000 years. Using the finest quality Korean Ginseng, Beeline Ginseng and Multivitamin Effervescent tablets combines the benefits of Ginseng with the nutritional support of the key essential vitamins. B Complex vitamins together with vitamin C are vital nutrients for healthy nerve function, immune and muscle response. Beeline Ginseng & Multivitamin formula is available in leading pharmacies such as Boots and all major supermarkets from €5.29
New Beeline Teenager Vitamin D3 and Multivitamins is a tailored supplement to help support the nutritional needs of Teenagers. According to the FSAI, low vitamin D is widespread in Ireland. New Beeline Vitamin D3 + Multivitamins, also suitable for Vegetarians, is designed to help support physical and mental capacity via Key Nutrients, Vitamin D, B Vitamins, Iron, Zinc, Calcium and much more. The key benefits are the reduction in tiredness and fatigue, better energy levels, contribution to normal cognitive function, immune defence, bone health, healthy skin, hair and nails and healthy blood and heart. Teenager Vitamin D3 and Multivitamins is available in leading pharmacies such as Boots and all major supermarkets from €8.00.
Co-Enzyme Q10 helps to optimize energy levels particularly in those leading a hectic lifestyle. It works as a powerful antioxidant to help the body deal with unstable chemicals called free radicals. The Japanese were the first to start taking it in supplement form, and it is now touted as an anti-ageing supplement, as well as a treatment for gum disease, heart disease, and even brain disorders. Beeline Co-Enzyme Q10 provides 30mg of naturally sourced Co-Enzyme Q10 with added vitamin E and B vitamins to help with energy release and reduce tiredness and fatigue. Beeline Co-Enzyme Q10 is available in leading pharmacies such as Boots and all major supermarkets from €5.99
Beeline Healthcare is an Irish Company and is the leading manufacturer and distributor of natural health products in Ireland and in addition, exports to the United Kingdom, Portugal, Spain and Poland.
ENDS
Top tips for dealing with exam stress
Be positive: Don't beat yourself up, be nice to yourself. Make a quick list of five things you've done that you are proud of. This will put you in a good mood and you will learn more. Stand up straight and smile, you will feel a bit better straight away.
Be realistic: Don't try to do too much work each day and make a study plan that is realistic. This will put you in control. Give yourself plenty of short breaks as you revise, this keeps you fresher for longer, so you will learn more.
Stay hydrated: Avoid too much tea or coffee and try to drink two litres of water each day. As an energy booster, try adding Beeline Ginseng & Multivitamin Effervescent tablets to water, it is easy to take and fast acting as it dissolves rapidly in water to make a delicious sparkling orange flavoured drink.
Get plenty of sleep: Try to keep your sleep routine as regular as possible. Sleep helps your brain to assimilate new knowledge into your long-term memory so that you can recall it when it comes to test day.
Put away the phone: You probably don't even realise the number of times you check Facebook, Instagram or whatever your vice is. When you add it all up together, it amounts to a significant waste of time. Try to leave the phone out of sight and reach during study time
Time for yourself: Try to leave enough time in your revision for some fun. Do something you enjoy for a while if you want to stay in a good mood.
Don't (always) listen to others: "comparison is the thief of joy". While it is helpful to discuss topics with fellow students and often to revise together, try not to compare other peoples' revision to your own. Chances are you're doing just fine
Eat properly: Make sure your diet includes plenty of fruit and vegetables. Try New Beeline Teenager Vitamin D3 and Multivitamins to make sure your body is getting all the vitamins and minerals you need.
Get some exercise: It's a fantastic stress buster. Go running, skateboarding, play a sport, or just go for a brisk walk. If you are not sleeping very well, exercise can make a real difference. Try Beeline Co-Enzyme Q10 to helps to optimize your energy levels.
Chill out and talk to someone: If you are starting to feel overwhelmed, talk to someone, take a bit of time to breathe deeply, tell yourself how well you are doing and remind yourself that everything is going to turn out alright. Because it will!
Attachments:
https://app.mediahq.com/app/release-file/33198
https://app.mediahq.com/app/release-file/33202
https://app.mediahq.com/app/release-file/33204