Des Bishop all revved up to announce Irish Cancer Society is the official charity for Cannonball 2019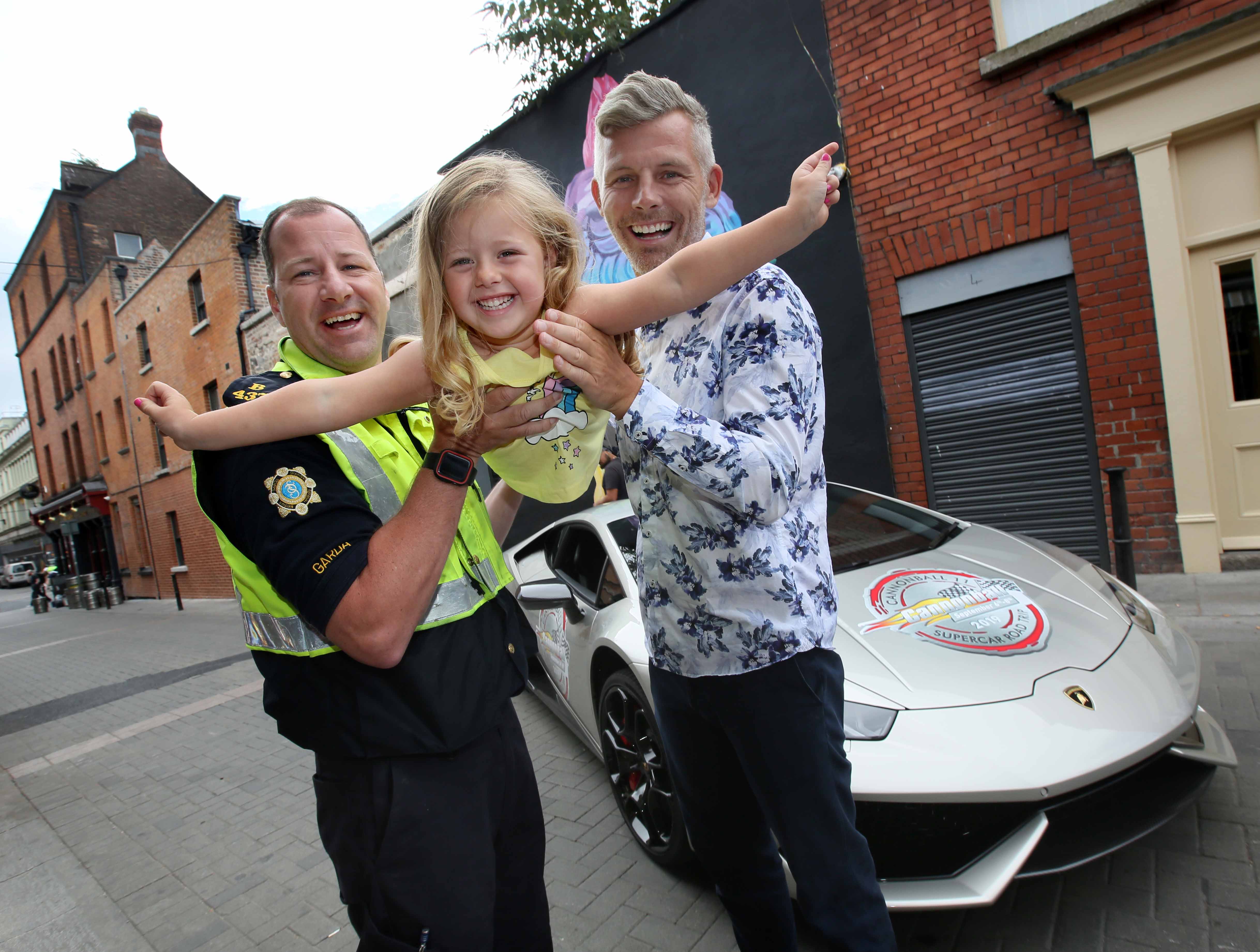 Press Release


Des Bishop all revved up to announce the official charity for Cannonball 2019 is the Irish Cancer Society
On Thursday July 25th at Camden Row in Dublin, Des Bishop got to grips with a Lamborghini Huracan along with Harrison Clark (5), Belle Walshe (5) and Cannonball founder Alan Bannon to announce that the Irish Cancer Society will be the official charity partner for Cannonball 2019. Popular comedian Des Bishop is himself a cancer survivor and urged members of the public to show their support for the growing number of people being diagnosed with cancer in Ireland.
Cannonball, the action-packed supercar spectacle, is set to roll on September 6th – 8th with over 190,000 people expected to line the streets all around Ireland. Top mark cars including McLaren, Lamborghini, Ferrari, Aston Martin, Porsche, Maserati, Rolls Royce and Bentley will blaze a trail through Dublin, Cork, Kerry, Limerick, Mayo, Sligo, Meath and Offaly taking in the Wild Atlantic Way, Hidden Heartlands and Ireland's Ancient East.
Cannonball has already raised €1,016,000 for Irish charities and, this year, the official charity of Cannonball will be The Irish Cancer Society. The charity funds lifesaving cancer research and a range of free support services for people affected by cancer.
Mark Mellett, Head of Fundraising, Irish Cancer Society, said, "More people are being diagnosed with cancer each year, which means more people need our help. With the help of supporters like Cannonball, we are determined to tackle this cancer problem head on and do everything we can to help as many cancer patients as possible. None more so than children with cancer. Services like our financial aid for families, nurses on our Cancer Nurseline and in Daffodil Centres throughout Ireland, who provide care for children going through cancer and their families. Without support from events like Cannonball and everybody who will come out to see these fantastic cars and teams, we would not be able to deliver our services across Ireland this year. We are so grateful to Alan, the team at Cannonball and all participants for choosing to support everyone affected by cancer this year."
Spectators will get up close and personal with 190 of the finest cars on the planet and enjoy the unique festival atmosphere that Cannonball is renowned for. The notorious NYPD, German Polizei, Fr Willie and colourful Cannonballers in crazy costumes add to the melee. From Spiderman to Star Wars, Cat Woman to Wonder Woman, Cheerleaders to Charlie's Angels, Batman, The Joker and more, it is a totally unique free family day out.
Cannonball is the brainchild of Kildare businessman Alan Bannon. The benefit to the host towns for this event is estimated at €2,567,000 per year and the last 12 months have been pretty exceptional for this Irish event. It went to America in October as well as making headlines in Scotland, Wales and across the Continent with the excitement and spectacle that Cannonball is renowned for.
Celebrity Cannonballers over the years include Boyzone's Shane Lynch, former Miss World Rosanna Davison and husband Wes Quirke, Glenda Gilson, Rachel Allen, Kathryn Thomas, Miriam O'Callaghan, Georgia Salpa, Emma Quinlan, Holly Carpenter, Roz Purcell, Nadia Forde, Ryan Tubridy, Mick Galway, Gerald Keane, Andy Quirke, Nicky Byrne, Colm Hayes, Ryan and Adam Thomas, Dirty Sanchez, Jenny Green, former Taoiseach Enda Kenny and former President Mary Robinson. See www.cannonball.ie for further details, routes and events.
ENDS
Media Contact: Helen O Dwyer | PR1 | 086 2332725 | [email protected]


* Full set of images available from [email protected]
Attachments:
https://app.mediahq.com/app/release-file/45502
https://app.mediahq.com/app/release-file/45503
https://app.mediahq.com/app/release-file/45504