Today is the First World Food Safety Day | June 7th 2019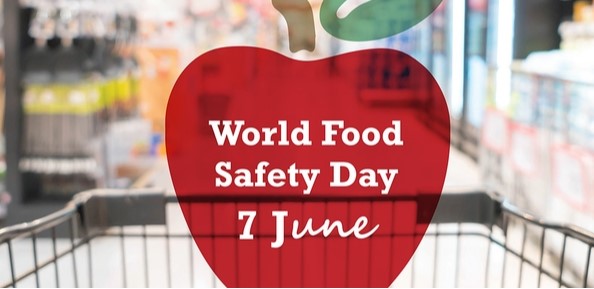 Press Release
Today is World Food Safety Day


June 7th 2019
The United Nations General Assembly adopted a resolution proclaiming a World Food Safety Day on June 7th 2019. From this year onwards, every June 7th will be a time to celebrate the myriad benefits of safe food with World Food Safety Day. The international community will speak with one voice to promote awareness and inspire actions for safer food. The new annual observance will draw attention and direct efforts to stopping the roughly 600 million cases of foodborne illnesses that occur annually. Unsafe food is a threat to human health and economies, disproportionally affecting vulnerable and marginalized people. It also damages global trade leading to further food waste, which can no longer be tolerated in a world where many still suffer from hunger.

Hypersensitivity to food is on the rise. It's now estimated that approximately 5pc of Irish children and 3pc of adults suffer from a food allergy. Twenty years ago, just 1pc of the population was affected. The level of severe reactions, requiring a trip to A&E, has also escalated. Ireland's most common allergies include Milk, Eggs, Peanuts, Other nuts, Shellfish, Fish, Wheat, Soya. In 1989, the British epidemiologist David Strachan was the first to suggest that the exposure to infections during childhood would provide a good defence against allergies in later life. It's an idea known as 'Hygiene Hypothesis'
Supermarkets, Restaurants, Staff Catering, Hotels, Butchers, Childcare, Home Care, Hospitals, Nursing Homes and Food manufacturing or processing companies must be more vigilant than ever with Hygiene and Food Safety. Over 3,400 consumer complaints were handled by the Food Safety Authority of Ireland's (FSAI) Advice Line last year, with over a third of those relating to complaints of unfit food and food poisoning.
"If the "hygiene hypothesis" is correct, it may explain the rapid rise of both asthma and allergy cases as well as the rise in reported cases of food poisoning." Said Irene Collins Managing Director of Excellence Ireland Quality Association. "The Q Mark for Hygiene & Food Safety Audit programme is a fantastic tool for every sector of the food industry including food manufacturers, caterers, retailers and food distribution companies as it clearly demonstrates to their customers that they take food safety seriously and ensure that the consumer is at the heart of everything they do. If I was to highlight just one thing that EVERYONE can do to improve food safety standards it would be to improve Hand Hygiene practices. It doesn't take capital budget or fancy equipment, it requires Observation, Leadership, Training and Corrective Action which could include re-training but it one of the most important steps to avoid people getting sick and spreading germs to others"
ENDS
Editors Notes
Expert available for interview: Irene Collins, Managing Director of Excellence Ireland Quality Association (EIQA). EIQA is the Irish National Quality Association and has been at the forefront of the quality crusade for more than 50 years. EIQA is known as the 'Guardian of The Q Mark'.