NUI Galway announces Analytics Summer School in conjunction with KPMG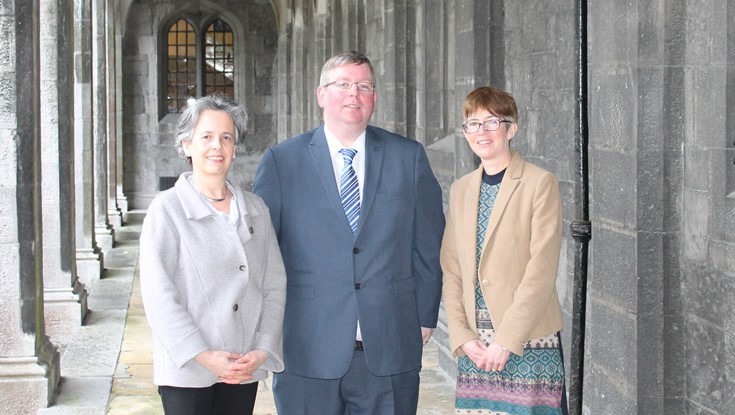 NUI Galway has announced an innovative collaboration with KPMG on a new Analytics Summer School at the J.E. Cairnes School of Business & Economics. The Summer School will use KPMG tools which were developed to harness the power of technology and bring greater vigour, precision and meaningful insights to the increasing age of data.
The first of its kind in Ireland, the KPMG-led Analytics Summer School will be available to students who are undertaking either NUI Galway's Master of Accounting or MSc (International Accounting & Analytics) and will focus on auditing and accounting analytics and cognitive technologies using KPMG software and tools. 
Laurence May, Director at KPMG and Adjunct Professor at NUI Galway, said: "We are in an age where more data is being created faster than ever before, with less than 1% of data ever being used or analysed. Therefore, the ability to analyse and use this data is a key challenge for all professions, including audit and accounting. NUI Galway has recognised the importance of this challenge and KPMG is delighted to partner with them on the new Analytics Summer School."
Professor Breda Sweeney, Head of the Accounting & Finance Discipline, NUI Galway said: "We are delighted to partner with KPMG in adding this innovative summer school to our suite of existing postgraduate summer schools which are delivered in conjunction with international academic/business experts in areas of key importance to accountants in public and private sectors."
 More information can be found at  www.nuigalway.ie/business-public-policy-law/ or Email accounting@nuigalway.ie
Photo: Pictured at the launch of NUI Galway's new MSc in International Accounting and Analytics programme and the appointment of Laurence May as Adjunct Professor in Accounting and Finance at the J.E. Cairnes School of Business and Economics were, from left, Dr Geraldine Robbins, Programme Director, NUI Galway; Laurence May, Audit Director at KPMG; and Professor Breda Sweeney, Head of Discipline of Accountancy and Finance, NUI Galway.

Notes to Editor
About the Master's Programmes
The Master of Accounting aims to further develop the academic and professional knowledge and skills of honours accounting graduates who aspire to careers in accounting. It offers substantial exemptions from Chartered Accountants Ireland professional examinations.
The SAP Certified MSc (International Accounting & Analytics) offers membership of the ACCA Accelerate Programme which provides specialist networking advice, CV workshops, and access to the global ACCA community.
Both programmes will equip students with the accounting and analytical skills, and knowledge needed to engage with big data in a variety of roles in practice and industry.
For more information about the Accounting Masters programmes available email accounting@nuigalway.ie or visit:
Master of Accounting: http://www.nuigalway.ie/courses/taught-postgraduate-courses/accounting.html
MSc (International Accounting & Analytics): http://www.nuigalway.ie/accounting-analytics.html/
For Press, contact Eilís Ní Loingsigh, Acting Press & Information Assistant, NUI Galway at eilis.niloingsigh@nuigalway.ie or 091 493543.
About NUI Galway
The University was established in the heart of Galway City, on the west coast of Ireland, in 1845. Since then it has advanced knowledge teaching and learning, through research and innovation, and community engagement.
Over 18,000 students study at NUI Galway, where 2,600 staff provide the very best in research-led education.
NUI Galway's teaching and research is recognised through its consistent rise in international rankings. The University is placed in the Top 250 of both the Times Higher Education (THE) World University Rankings 2016/2017 and the QS World University Rankings 2016/17.
With an extensive network of industry, community and academic collaborators around the world, NUI Galway researchers are tackling some of the most pressing issues of our times. Internationally renowned research centres based here include CÚRAM Centre for Research in Medical Devices, Insight Centre for Data Analytics, Moore Institute, Institute for Life course and Society and The Ryan Institute for Environmental, Marine and Energy.
NUI Galway has been listed as one of the most beautiful universities in Europe according to Business Insider. For more information visit www.nuigalway.ie or view all NUI Galway news here.
*The University's official title is National University of Ireland Galway. Please note that the only official abbreviation is NUI Galway.
Attachments:
https://app.mediahq.com/app/release-file/992