Students Invited to Create Their Own Clinical Trial to Mark International Celebration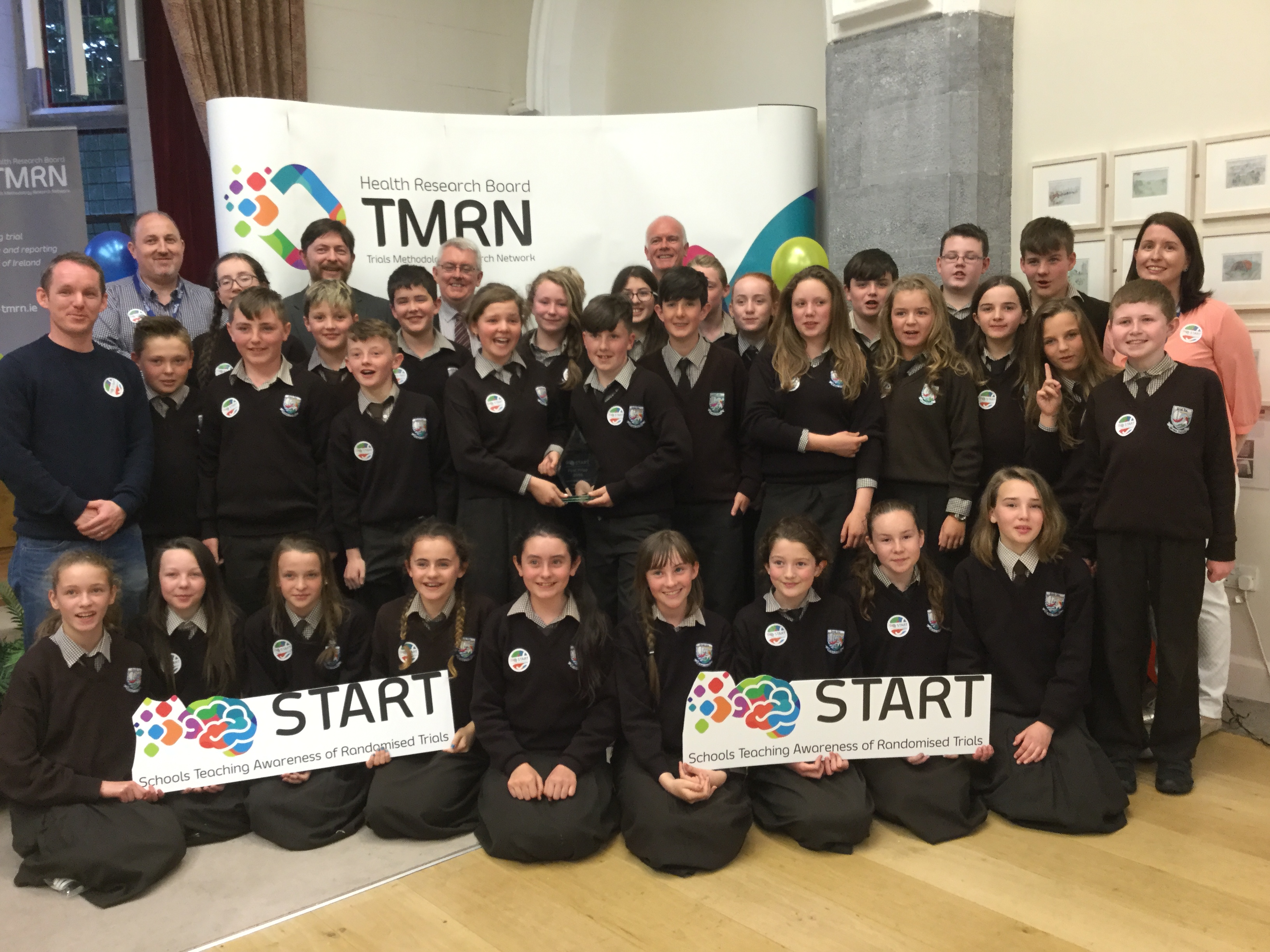 The NUI Galway based 'Health Research Board – Trials Methodology Research Network' launches START COMPETITION for primary school students
On 20 May every year, the world celebrates International Clinical Trials Day. This event marks the anniversary of the first ever documented clinical trial, which was conducted with sailors in the Royal Navy in 1747. To celebrate this important occasion, the Health Research Board – Trials Methodology Research Network (HRB-TMRN) based in NUI Galway has launched the Schools Teaching Awareness of Randomised Trials (START) competition.
The competition, now in its second year, invites 4th, 5th and 6th class students and their teachers to design, carry out and evaluate their very own clinical trial. Participation in this competition meets several key aspects of the school curriculum including Maths, Science, English, Irish, Information and Communication Technology and Social, Personal and Health Education.

Students are asked to choose a simple, easy to answer question and use the proper steps of a trial to answer it scientifically, using the resources provided on the HRB-TMRN website. Questions might include things like "Can using coloured paper for written spelling tests increase students' scores?" or "Does 10 minutes of dancing every morning before classes improve student's attention?" Findings from each trial can be reported in any format such as podcast, video, website, report format, collage or poster. The purpose of the competition is to help students become aware of the clinical trial process, rather than answering a ground breaking question.
Commenting on the project, Dr Sandra Galvin, HRB-TMRN Coordinator based at NUI Galway said: "This is an exciting initiative and the first of its kind to bring awareness of clinical trials to the younger community. Schoolchildren and their teachers are so creative and we are really looking forward to seeing what innovative ways teachers and pupils go about designing and reporting their trial."
All schools submitting an entry will be listed among the 'Trial Aware Primary Schools 2017' on the HRB-TMRN website, and shortlisted entries will be invited to Galway on Friday, 19 May, where the winner will be announced and presented with the START Trophy 2017.
Each project will be assessed by:
How well does the project adhere to the structure of a clinical trial?


Does the project provide new insights into a healthcare issue in the school or the local or wider community?

How well presented are the findings of the trial, so that any member of the community could understand the findings?

Can other schools learn something new from this project?
To register your trial complete the Trial Registration Form, which can be found on the website www.hrb-tmrn.ie and email it to hrb-tmrn@nuigalway.ie or alternatively Post to: Room 235, 1st Floor, Áras Moyola, School of Nursing and Midwifery, NUI Galway.

For further information or to contact one of the Trial Ambassadors visit: www.hrb-tmrn.ie   Follow us on Facebook at facebook.com/hrb.tmrn and Twitter on twitter.com/hrbtmrn or @hrbtmrn.
-Ends-
For further information contact Dr Sandra Galvin, HRB-TMRN Coordinator, NUI Galway on 091 494493 or hrb-tmrn@nuigalway.ie.

For Press, contact Gwen O'Sullivan, Acting Press and Information Executive, NUI Galway on gwen.osullivan@nuigalway.ie or 091 495695.
Photo 1st Place: 6th Class students from Scoil Ide, Corbally Road, Limerick and their teacher Ray D'arcy, who won 1st place in the Schools Teaching Awareness of Randomised Trials (START) competition 2016.

Photo 3rd Place: Students from St. Cuana's National School, Kilcoona, Headford, Co. Galway and their teacher Tracey Langan who won 3rd place in the Schools Teaching Awareness of Randomised Trials (START) competition 2016.
Photo HRB-TMRN Team: L-R: Professor Declan Devane, HRB-TMRN, NUI Galway, Dara Glynn, Principal, Ennis CBS, Professor Kathy Murphy, NUI Galway, Dr Graham Love, CEO, Health Research Board, Dr Sandra Galvin, HRB-TMRN, NUI Galway and Professor Pól Ó Dochartaigh, Registrar and Deputy President, NUI Galway.
Notes to Editors
About NUI Galway
The University was established in the heart of Galway City, on the west coast of Ireland, in 1845. Since then it has advanced knowledge teaching and learning, through research and innovation, and community engagement.
Over 18,000 students study at NUI Galway, where 2,600 staff provide the very best in research-led education.
NUI Galway's teaching and research is recognised through its consistent rise in international rankings. The University is placed in the Top 250 of both the Times Higher Education (THE) World University Rankings 2016/2017 and the QS World University Rankings 2016/17.
With an extensive network of industry, community and academic collaborators around the world, NUI Galway researchers are tackling some of the most pressing issues of our times. Internationally renowned research centres based here include CÚRAM Centre for Research in Medical Devices, Insight Centre for Data Analytics, Moore Institute, Institute for Life course and Society and The Ryan Institute for Environmental, Marine and Energy.
NUI Galway has been listed as one of the most beautiful universities in Europe according to Business Insider. For more information visit www.nuigalway.ie or view all NUI Galway news here.
*The University's official title is National University of Ireland Galway. Please note that the only official abbreviation is NUI Galway.
Attachments:
https://app.mediahq.com/app/release-file/1113
https://app.mediahq.com/app/release-file/1114
https://app.mediahq.com/app/release-file/1115