The Dún Laoghaire Christmas Market | A feast for the seasonal senses …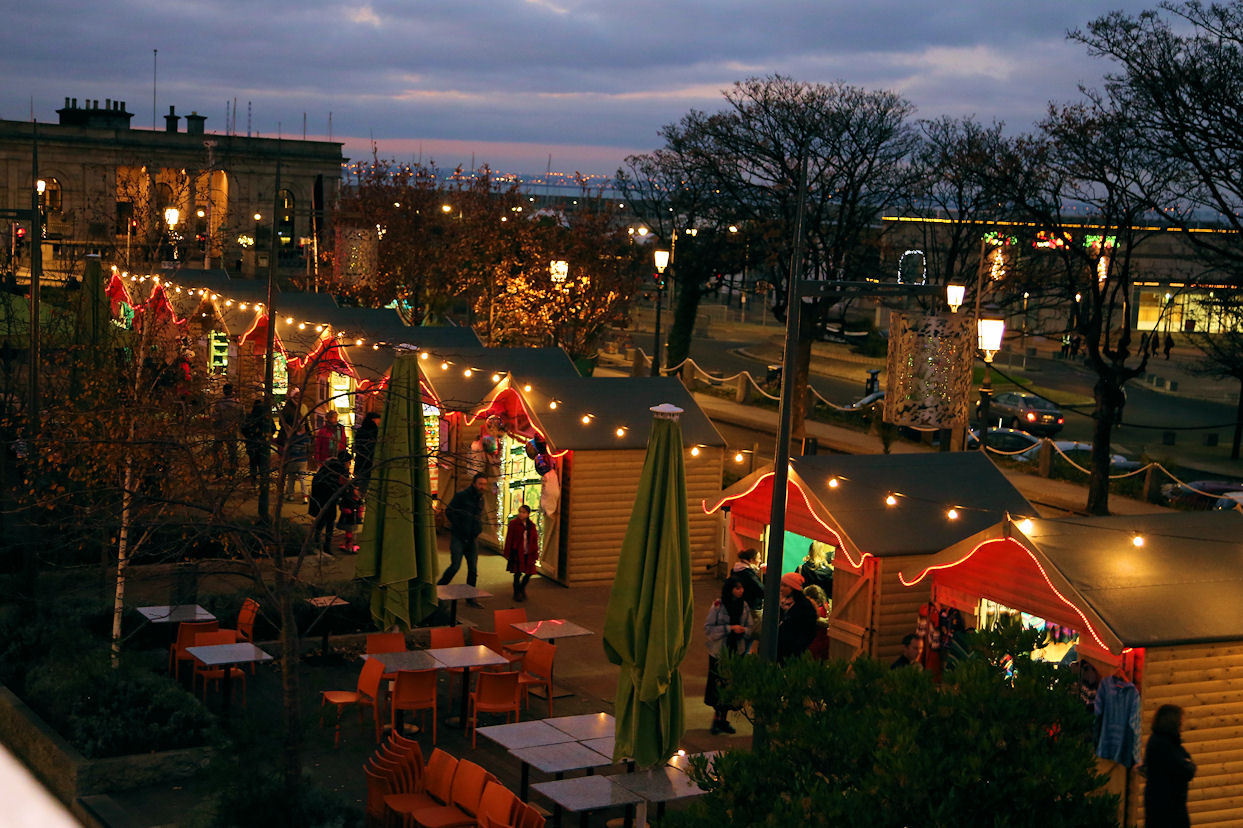 Press Release
A feast for the seasonal senses …
The Dún Laoghaire Christmas Market
Every Friday 12.30pm -7pm,
Saturday and Sunday from 11am – 7pm until December 23rd
The Dún Laoghaire Christmas Market is a feast for the seasonal senses as carefully selected vendors sell authentic hand-made gifts and delicious treats every weekend from November 24th to December 23rd on the metals and opposite dlr LexIcon from 12.30pm to 7pm on Fridays and 11am to 7pm on Saturdays and Sundays. Aromas of gourmet sausages, crepes, baked goods, Hungarian Beef Goulash Soup and Lángos, German Gluhwein and steaming hot chocolate will fill the air as you wander through the Christmas Market with hand-crafted gifts and decorations, jewellery, metal art, sculpture, photography and a whole host of very special quality gifts and treats that are not mass-produced but hand crafted with love.
This year Dún Laoghaire is all dressed up for Christmas, but not just with twinkling lights and the usual festive fare! The Dún Laoghaire Christmas Festival, hosted by Dún Laoghaire- Rathdown County Council, features the largest ever display of Christmas lights in Dún Laoghaire, the iconic Ferris Wheel from the movie 'Grease', a Vintage Funfair, Santa's Post Box and the very popular Christmas market with a traditional and nostalgic theme bringing the magic of Christmas and a winter wonderland for the festive season.
Santa's Postbox is located at the Christmas Tree near the dlr LexIcon Garden and is open to receive letters right up to Sunday December 16th. Two of Santa's North Pole Post elves, Jingle Snickerdoodle and Twinkle McSprinkles, have been commissioned to pick up letters each Sunday at 5pm. The letters will be whizzed off to the North Pole via Elf Airlines direct to Santa who will reply to each letter.
Dún Laoghaire has over 280 retail outlets and businesses so why not swap city centre crowds and stuffed out-of-town shopping centres to browse, shop, relax and soak up the festive spirit of this magical seaside town. During the Christmas Festival with every hour of parking purchased on street in the Dún Laoghaire town centre, one hour is free. Shops all over Dún Laoghaire town will be running special promotional events in the run up to Christmas, extra trading hours and exclusive in-store promotions add some extra festive cheer.
ENDS
Media Contacts:
Dún Laoghaire-Rathdown County Council Communication Office 01 2047090 |
[email protected]
Dún Laoghaire Christmas Market 2018 Market Trader List
Nora's Langos Hot Food
Mint Garden Savoury Grill
Flamin' Marvellous Crepes
Red Bird Cafe Cafe
Merci Beaucoup Cakes Baked Goods, Patisseries and Desserts
L'Vent Handmade bags
Out of Hand Beaded and crystal decorations
KT Metal Design Metal Art & Sculpture
Watch Doctor Creations
Robert Kelly Photographic Prints
Rondyl Intl t/a Saorbuga Bluetooth enabled hats
Yvonne Dunne Design Handmande Chistmas Ornaments
Love-a-Bauble Tree baubles
Helena Kenny Wooden Christmas Characters
Gifts of Nature Crafts - Jewellery & knitwear
Trevor Cullen Funfair Trevor Cullen
Andrew Hatton Christmas Trees
Attachments:
https://app.mediahq.com/app/release-file/23906
https://app.mediahq.com/app/release-file/23907
https://app.mediahq.com/app/release-file/23908