Mysterious paw prints spotted around Dublin City!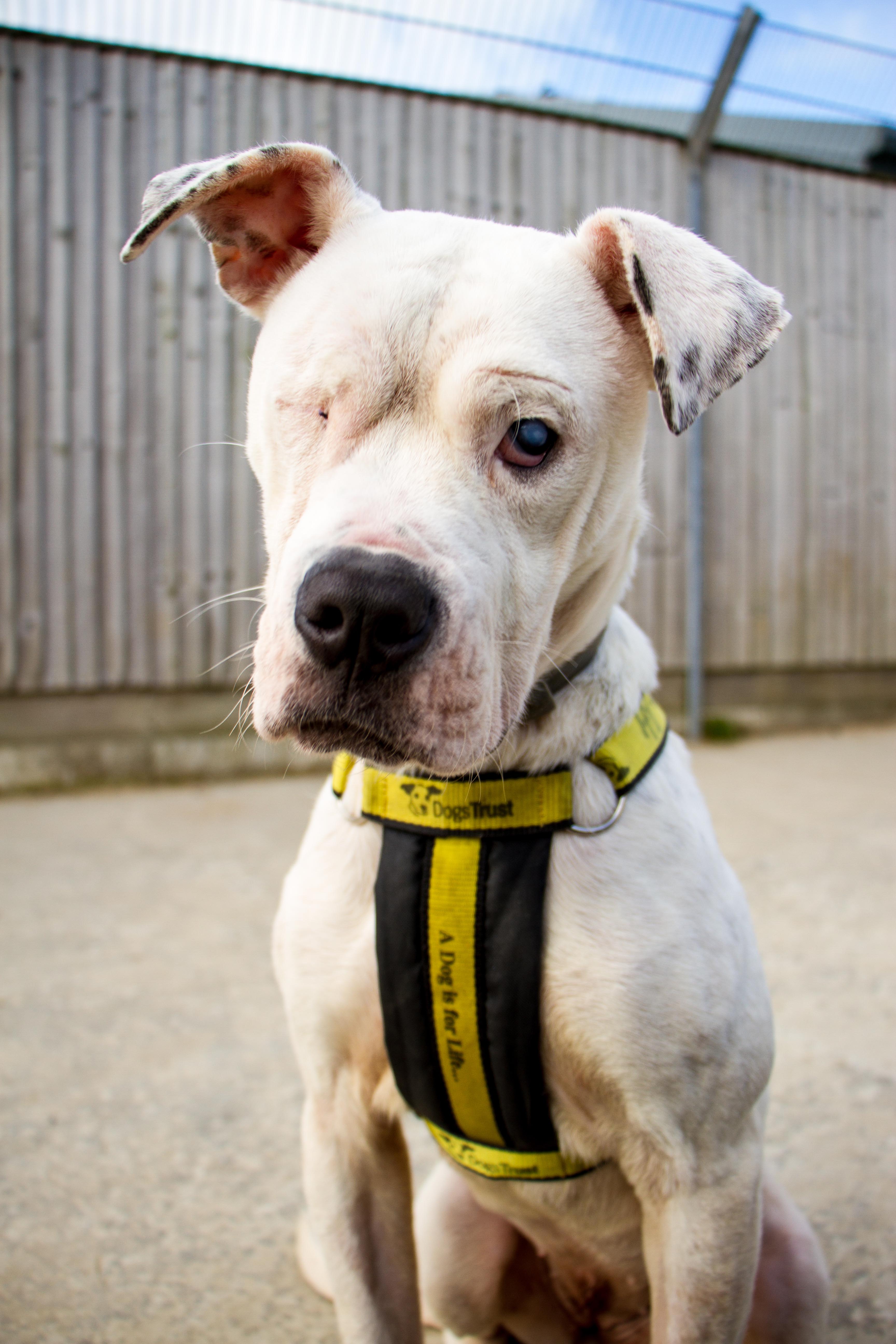 For Immediate Release
Tuesday 14th November 2017
Mysterious paw prints spotted around Dublin City!
Dogs Trust is asking the public to #PawsForThought this Christmas

The paw print stunt was created using clean graffiti to represent the owners that wash their hands of the responsibility and commitment that comes with owning a dog.
Dogs Trust has revealed that there was a 58% increase in the number of owners looking to surrender their dogs after Christmas last year
The charity recorded that the most common reason for someone wanting to give up their dog was that they didn't have enough time to look after them anymore

You may have noticed large rather mysterious paw prints dotted around the streets of Dublin this morning with the hashtag #PawsForThought. Dogs Trust later revealed it was behind the paw prints by putting their stamp under some of the oversized paw prints. To remind people of their Christmas message that 'A Dog is for life, not just for Christmas®', the charity is urging people to "pause" and think about the lifelong commitment and responsibility that comes with owning a dog and then wait until after Christmas to consider taking on a new addition to the family.
The clever stunt was created using clean graffiti to represent the owners that wash their hands of the responsibility and commitment that comes with owning a dog. The charity revealed that 756 people contacted Dogs Trust within the first three months after Christmas last year to relinquish their dogs, compared to 479 in the same period the previous year. This equates to an alarming 58% increase in the number of owners looking to surrender their dogs. The charity recorded that the most common reason for someone wanting to give up their dog was that they didn't have enough time anymore.
An example of this is Bella, who came to Dogs Trust as a young pup and the charity suspect that she was given to someone as a Christmas present. Bella arrived with an eye infection, which she had been suffering with for a long time. However tragically, in Bella's case, her right eye was left untreated for so long that it had swollen completely shut and had to be removed. If she had been brought to a vet at an earlier stage, this could have been prevented. Luckily she ended up in Dogs Trust, where she was nursed back to health, she was given lots of love and they found her, her forever home. But for some dogs there isn't such a happy ending.
Unfortunately, with over 1,000 abandoned dogs per year coming through the charity's doors, and thousands more the charity cannot possibly take in, people are still taking on the responsibility of dog ownership without enough consideration of what it really entails. You can give the gift of life this Christmas by Sponsoring a Dog instead. You can save lives and give abandoned dogs the second chance that they deserve.
To help spread their message this Christmas, Dogs Trust want people to #PawsForThought by posting their Paws or Pause Pose on social media, with pictures of them or their furry friends pausing for thought!
Speaking about the campaign, Executive Director, Dogs Trust, Suzie Carley said: "It is deeply worrying that we have seen such a significant spike in the number of surrender requests we received after Christmas last year compared to the previous year. For us, as Ireland's largest dog welfare charity, this campaign is very much about urging those thinking of getting a dog to please pause and take due consideration at any time of the year but especially when getting a dog for Christmas. We hope that by spreading the message that 'a dog is for life, not just for Christmas,' which was coined by Dogs Trust almost 40 years ago, we will encourage people to wait and consider adding a dog to their family in the New Year instead, when the festivities have died down. We would encourage those who have made the decision to get a dog, to adopt from your local rescue centre, local pound or Dogs Trust and give a rescue dog the best second chance in life."
Find us on Facebook or follow the conversation on twitter using the hashtag #PawsForThought

To find out more about how you can support this campaign log onto www.dogstrust.ie/pawsforthought
Images have been sent to your picturedesks and are available on request
ENDS
For more press information and interviews contact:
Ciara Byrne - PR and Communications Manager, Dogs Trust
Phone – 086 142 2835
Corina Fitzsimons – PR & Communications Officer, Dogs Trust
Phone – 018791 846
Email - communications@dogstrust.ie 
www.dogstrust.ie
Follow Dogs Trust
Follow us on Twitter: @DogsTrust_IE 
Find us on Facebook: www.facebook.com/DogsTrustIrelandOnline 
Follow us on Instagram: dogstrust_ire 
Follow us on Youtube: www.youtube.com/ DogsTrustIreland 


NOTES TO EDITOR:
Reasons why getting a dog at Christmas is not a good idea:
Attention – A puppy, especially one who has recently left the comfort of his littermates and Mum will crave attention and comfort and you may just not have the time to provide this at a busy time like Christmas.
Guests - Christmas is often the busiest time of year in homes with lots of guests and excitement: this can be over whelming for any puppy! If puppies are over whelmed and frightened by visitors this can easily lead to behaviour problems in the future.
Housetraining – Housetraining a puppy takes a few weeks, lots of patience, routine and consistency with the whole family, and most importantly you need to be there to recognise when your puppy needs to 'go'. With the festivities, this can be difficult to do as your concentration can be on preparing meals and wrapping presents etc.
Trees & Decorations - Christmas can be a wonderful time of the year for most of us but with lots of forbidden foods and decorations within reach, it can be a very busy time for veterinary practices around the country! Chocolate, grapes, raisins, macadamia nuts, and alcohol are toxic to dogs and rich fatty foods can cause serious damage. You'd need eyes on the back of your head with a puppy around all of these harmful temptations!
Gifts – There are usually lots of new, expensive gifts lying around at Christmas and puppies like and need to chew; they cannot differentiate between cheap and expensive items.
Timing – Gifts at Christmas are an indulgence for our loved ones – puppies are a 15 year commitment and simply not a material item to be gifted as a surprise. Puppies need stability, routine and a calm environment to settle into, and as wonderful as Christmas is, this is not the time of the year to make such a commitment.
What to consider if you want a puppy:
• Owning a dog is a lifetime commitment. The average dog lives for 13 years.
• Dogs aren't cheap to care for. You should expect to spend around €10,000 over his lifetime depending on the size of the dog.
• Puppies can be extremely hard work for an owner, particularly if there are young children in the house – do you have enough time to spend with your pup?
• Dogs don't come fully trained. They can cause a lot of damage to your possessions through chewing and accidents. How committed are you to training your dog?
• Christmas is always a very hectic time of year with relatives and friends arriving. This isn't the best time to introduce your new dog to the house.
Online sale/purchase of puppies:
• Dogs Trust acknowledges that the internet is an accessible way of purchasing gifts quickly, but the impulse buying of pets and animals poses the enormous risk of attracting many unscrupulous breeders.
• Consumers could, unintentionally, end up purchasing a pet online from a puppy farm. Such puppies often have physical and behavioural problems as a result of poor breeding and transportation conditions.
• Dogs Trust urges people to think carefully about the type of dog they want and to be extremely selective about who and where they buy it from.
It is vital that people undertake as much research as possible to ensure they obtain a healthy legally bred dog and to avoid the unnecessary costs associated with buying at the 'click of the mouse'.

Dogs Trust Ireland
Dogs Trust has been working in Ireland since 2005 and its mission is to bring an end to the destruction of stray and abandoned dogs through a national responsible dog ownership campaign, including a subsidised neutering and microchipping campaign and an education programme.

There are currently 176 dogs and puppies in Dogs Trust Rehoming Centre, awaiting their forever homes. 

Dogs Trust is working towards the day when all dogs can enjoy a happy life, free from the threat of unnecessary destruction.

The Centre is based at: 
Dogs Trust Dublin Rehoming Centre
Ashbourne Road
Finglas 
Dublin 11
www.dogstrust.ie
Attachments:
https://app.mediahq.com/app/release-file/5011
https://app.mediahq.com/app/release-file/5012
https://app.mediahq.com/app/release-file/5013
https://app.mediahq.com/app/release-file/5014