Countdown to Cannonball 2012 | September 14th to 16th 2012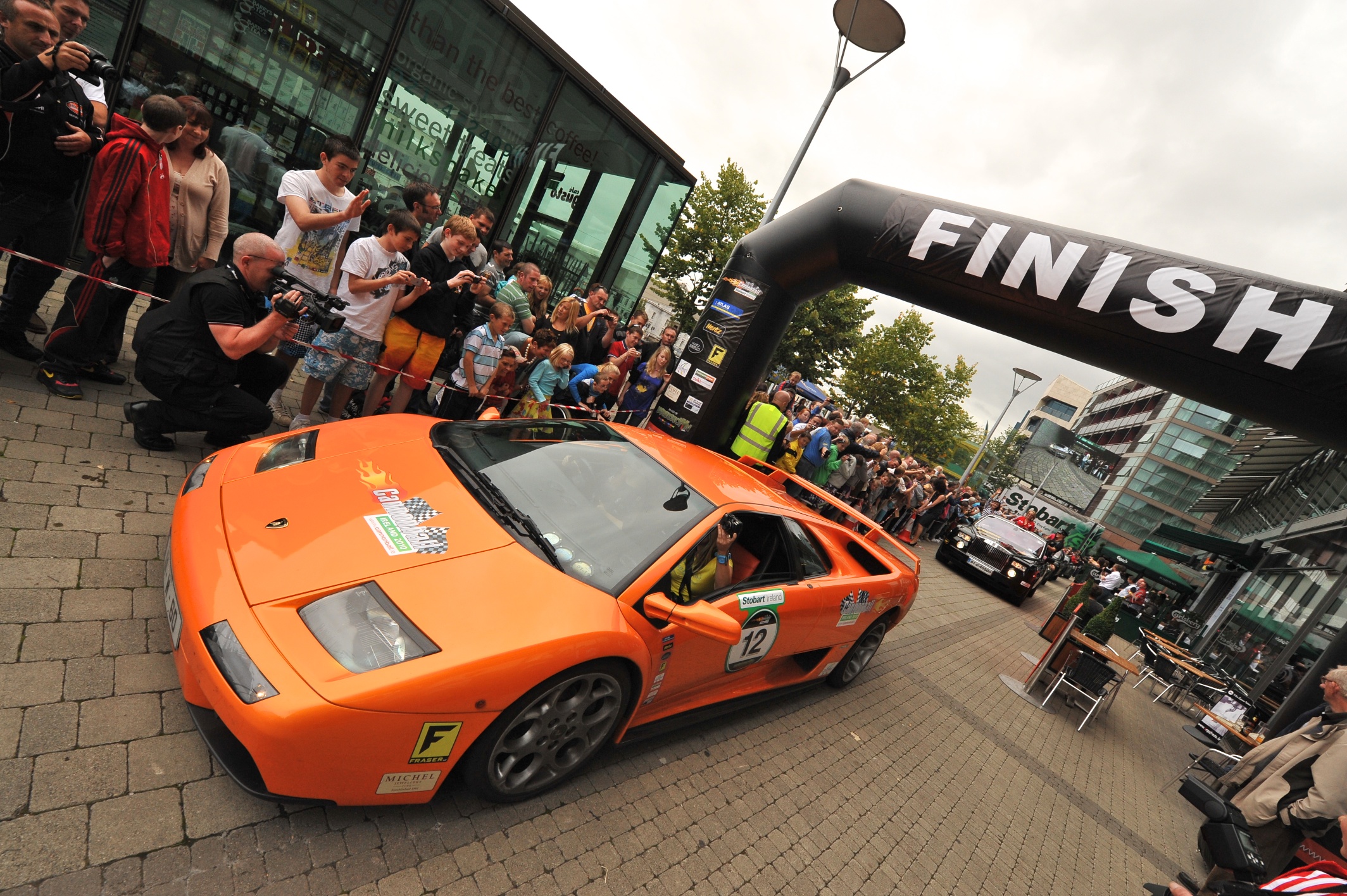 Countdown to Cannonball 2012
Next wekend, on September 14th 2012 from 7am, Merrion Square in Dublin will awaken to a spectacular sight as 150 of the finest cars on the planet line up for Cannonball 2012 sponsored by XSDirect.com.  This adrenalin fuelled event is the largest organised road trip in Europe and the most exciting motoring and social event of the year with most of the world's top mark cars such as McLaren, Lamborghini, Ferrari, Aston Martin, Porsche, Masseratti, Rolls Royce and Bentley.   Over 100,000 people will line the streets all over Ireland as Cannonball blazes a trail through towns and counties north and south of the border to raise funds for Laura Lynn House which supports children with life limiting conditions and their families by providing high quality transitional care, home support, respite, crisis and end-of-life care. Cars will be available to view from 7am on Merrion Square before they roar out ofDublin in spectacular style at 10am.
Cannonball is the brainchild of AB Signs proprietor, Alan Bannon and is now in its fourth year having already risen over a quarter of a million euro for Children's charities.   The star-studded convoy includes some of Irelandsbest loved celebrities and household names. World Famous chart topper BRUNO MARS  joined our own Shane Lynch in 2010, former Miss World Rosanna Davison and boyfriend Wes Quirke are annual Cannonballers whilst No Frontiers Presenter Kathryn Thomas, TV3's Elaine Crowley also take to the roads every year.  Models Georgia Salpa, Hazel O Sullivan, Emma Quinlan and Holly Carpenter have been keen Cannonballers over the years as well as DJ Steve Cooper from 98FM, Jennifer Maguire, Andy Quirke, the 2FM Ballbusters and the glamorous XPOSE girls from TV3.
Cannonball 2012 consists of 3 action packed days taking in some ofIreland's most scenic routes both north and south of the border.  On day one, Cannonball will leave Merrion square with a thunderous roar as the star-studded convoy heads up to Northern Ireland for the first time and takes a lunch stop at the beautiful Galgorm Resort and Spa in Ballymena where the cars can be viewed by car enthusiasts and fans.  Cannonball then tours through Northern Ireland taking in the spectacular Giant's Causeway and finally comes to rest at the iconic Titanic Belfast where the cars will be viewed from 5.30 to 7.30pm against the historic backdrop of the Titanic slipways as drivers dine and then get set to party the night away at the hip Café Vaudeville in Belfast City.   The event and each stop is infused with an electric atmosphere featuring Brazilian dancers, snake charmers, fire eaters, music and, of course, the unique CANNONBALL style and generosity.
On Day 2, Cannonball will make its way to Enniskillen for a lunch stop at Lough Erne Resort and then toGalwayCityto theLatin Quarterat 6pm to the cheers of thousands of fans, street entertainment, music and the electric atmosphere that Cannonball brings. On the final day, the gleaming supercars will take in Counties Clare andLimerickwith a lunch stop at Dundrum House Hotel, Golf and Leisure Resort near Cashel in Tipperary Cars will be on display from 1pm to 3pm at Dundrum House Hotel with a full family day planned with bouncy castles, barbeque and live music.  Cannonball will then take to the roads for it's final journey to the finish line in the beautiful city ofKilkennywhere the roars of the engines will compete with a cheering crowd of over 10,000 people and cars will be available to view on the Parade from 4.30 to 5.30pm.
This celeb and party soaked cross country run is eagerly awaited in each of the destinations by thousands of fans with street festivals planed all over the country. Spectators and car enthusiasts along the route will hear the roar of the mighty convoy as they approach and all prestige cards are on view to the public as they cross the finish line at the end of each day. Now in its fourth year, Cannonball is more popular than ever and is nowEurope's largest organised road trip with drivers and celebrities from all over the world helping to raise much needed funds for Laura Lynn House.
With people coming from as far as Italy, Germany, US, UK and Monaco, this event is set to put Ireland on the world map once again and is a firm fixture in motoring history. Cannonball 2012 main sponsor, XS Direct car insurance, specialises in low-cost car insurance for high premium drivers.  With over 100 supercars set to join this year's action-packed road trip, the link with performance motoring fans is ideal, says Chris McCann, Managing Director at XS Direct. "The Cannonball supercar drivers are a fine example of drivers that won't pay a super-premium with XSDirect.com, other customers that prefer the XS Direct approach are drivers that have lost their no claims bonus. The charity that will benefit from the Cannonball 2012 is the LauraLynn House, we will be supporting the fund raising efforts of LauraLynn as the event moves through each town, explained Chris McCann. Corporate sponsors this year include Manhattan Nuts and Popcorn, Supermacs, Beshoffs, Toys for Big Boys, E25 Supercar Club, Holywell, AB Signs, Parfit, Brazilia, 888.com, Michel Jewellers See www.cannonball.ie
ENDS
Press Contacts:  Helen O Dwyer: Helen@Pr1.ie | 086 2332725   & 
Valerie Roe: Valerie@valerieroe.com | 086 2417094     
Notes to Editor:
XSDirect
XSdirect.com specialise in low insurance for high premium drivers. The online car insurance provider has launched a new product on the Irish market called 'No Bonus; No Problem' which is ideally suited to performance motoring fans.  A unique low-cost comprehensive insurance policy, 'No Bonus; No Problem' is aimed at drivers with zero 'no-claims' bonus; drivers on their first personal policy; and drivers of high performance vehicles, like the Cannonball cars.
Laura Lynn House
LauraLynn is Ireland's only children's hospice and is based at the Children's Sunshine Home in Leopardstown Dublin. It opened its doors on September 27th 2011 and since then has cared for more than 105 families from all overIreland. The hospice cares for some of Ireland's sickest children and provides families with an all-important choice, be that as somewhere to stay during the transition from hospital to home, a place to rest from time to time or a place where their child may end their life.  LauraLynn was build entirely through fundraising monies at a cost of €5.5million and is only a reality because of generous donations by members of the public and corporate organisations.   The House has eight en-suite rooms for children, four family apartments as well as multi-sensory and play rooms, meeting rooms and an outdoor sensory garden. 
Attachments:
https://app.mediahq.com/app/release-file/9033
https://app.mediahq.com/app/release-file/9034